Win Guinness World Records: Wild Things books
Competition closes at 23:59 on
7 January 2019
Sorry, this competition is now closed
Get ready for Guinness World Records: Wild Things – a superlative safari of the planet's most extreme wildlife.
In this exciting new book, you'll get to know some of the world's most amazing animals, including the biggest, the smallest, the fastest, the deadliest and the downright weirdest. From gentle giants, killer bugs, powerful predators and cunning prey to backyard critters and species on the brink, the animal kingdom is crawling with amazing record-breakers!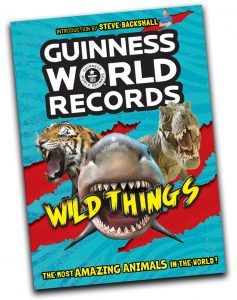 Click here to find out more about this wild and wonderful book!
The prize 
Five lucky winners win a copy of Guinness World Records: Wild Things
By entering our competitions you agree to the terms set out in our Privacy Policy and our competition terms and conditions.
SIGN IN TO TAKE PART
or Register here
Thanks for registering, you're now free to explore our site.